("...and those who can't wed, plan." - from The Wedding Planner)
I have never really understood that quote. If you can't do something, how dare you teach others to do it? It doesn't seem to make sense. And yet, I think that's what happens a lot of times in society.
This is a short list of things that make me cry (other than the obvious things):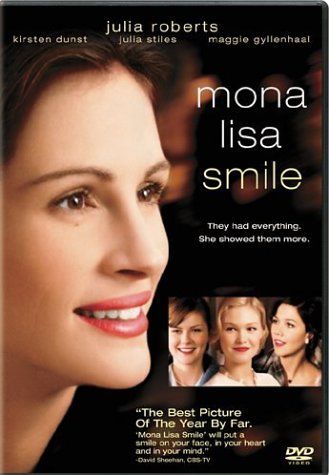 Julia Robert's character is just so damn beautiful, and Maggie Gyllenhaal's character is so painfully raw. Ginnifer Owen's character is the definition of endearing, and Kirsten Dunst is a bitch until the end when she's contrite - the epitome of a dynamic character. I don't agree with the decision that Julia Stiles's character makes, but I have to give her credit for knowing what she wants and how to argue for it. And of course, I love the discourse about what art is or is not and why.
"I came to Wellesley to make a difference, but to change for others is to lie to yourself." - Miss Watson
2. well written and emphatically spoken poetry
Sierra Demulder messed me up when I heard her perform at Sauced a couple of weeks ago. Her pieces are honest in a way that I never have been. Melissa May's poems motivate me move mountains.
3. good music
Kate Voegele's acoustic stuff, Miley Cyrus's "The Climb," Darrius Rucker's slow stuff, Brad Paisley's love songs, Franscesca Battiscelli's "Free to Be Me," Trace Adkins's "You're Gonna Miss This," Deana Carter's "Strawberry Wine," all the slow songs from the TV show One Tree Hill like A Fine Frenzy's "Ashes and Wine"
4. the very end of Sex and the City the movie
(after Carrie and Big are married and the girls are all just hanging out together)
5. teaching movies
Freedom Writers, Lean On Me, Stand and Deliver (Mona Lisa Smile goes here too)
6. every other time Barack Obama opens his mouth or writes anything down
hope is a concept that is beautiful to me, although its something that I often "hold like it's slipping" (thanks for the poetic image, Sierra Demulder)
This is a list of things I'm involved in:
1. School
I'm a teacher candidate hoping to get certified to teach English at the secondary level
2. Work
I'm an associate manager at the Build-A-Bear Workshop. It's fun, I love to make kids smile, and it's teaching me to let go of the things that don't matter (like what I wear to work and whether or not I look goofy while trying to make kids and parents happy).
3. The Oklahoma Student Government Association
I'm the P.R. Director and I'm not very efficient.
4. Intern for the Lt. Gov. Jari Askins (D) for Governor campaign.
5. In the application process for Kappa Delta Pi - the teacher's honor society - and the National Education of Women Leadership Conference (getting women involved in Oklahoma politics)
So what does this say about me?
I want to be a teacher.
I love art, good writing, music, movies, and politics.
What should I do with that?
Be a teacher?
Duh.
Volunteer with political campaigns?
Probably yes.
Add a minor in political science or leadership?
No.
Add a minor in Humanities?
Probably no.
Learn to play an instrument?
Could be fun and therapeutic.
Basically it all comes down to this: I know I can do/be anything, but I don't know what will make me happy. I know teaching has something to do with it, but I don't know if it's just teaching English or if it's teaching Humanities, or sponsoring the yearbook, or coaching cheer, or starting a youth mentorship program, or advocating for keeping the arts in public schools. I just don't know. And I've never been very comfortable not knowing.